Menlo Framework
By integrating multiple technologies and protocols, Menlo One provides developers with a framework to build decentralized apps that compete with their centralized counterparts in performance, cost to user, and ease of use. We've re-imagined the web stack for an future with security, no censors or single points of failure.
Content Nodes
Managed Blockchain Infrastructure
A decentralized internet requires security, useability, broad distribution and speed. Even the fastest blockchain today can't deliver content as quickly as a centralized cloud based server. Content Nodes are a solution to this problem by creating a decentralized cloud server network run by individual users who are incentivized to deliver the correct content to websites or applications.
Block Overflow
Share Knowledge, Earn Tokens
Block Overflow, an application for developer Q&A, is the first dApp built with the alpha version of the Menlo Framework. It was released on testnet during the ONE token sale, and users could use their ONE tokens the mainnet release the moment the token sale ended.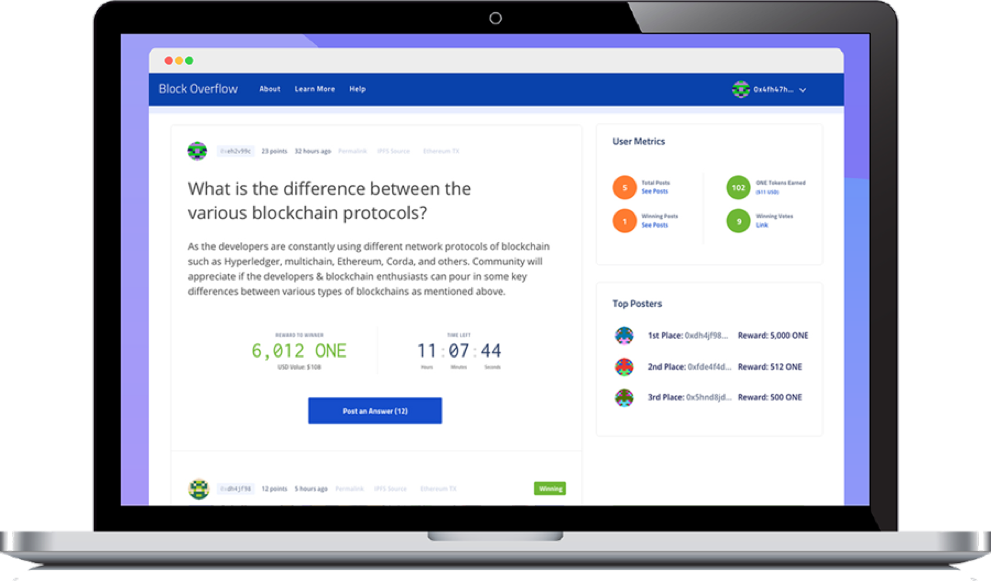 Ask a question
Asking a question costs ONE tokens, which goes into a pool to pay the person with the best answer. Then, a 24 hour countdown timer starts.
Users post answers
When someone replies with an answer, they place ONE tokens into the pool too, in hopes that they have the right answer.
The pool grows
Each time an answer is posted, the pool grows, and the 24 hour timer resets.
Users vote on answers
Users vote on answers. They can leave a comments too. If the answer they voted on wins, they get Reputation points.
Top answers win tokens
When people stop providing answers, the most up-voted answer is the winner. All of the ONE tokens go to the winner.
Totally decentralized
Furthermore, all of Block Overflow is decentralized. All of the data on this website was read from the blockchain.
The Menlo ONE Token
The Menlo ONE Token is an open source ERC20 compatible token on the Ethereum public blockchain. ONE is specially designed to work flawlessly with the Menlo Framework to enable fast, user friendly transactions.
Rewards Content Nodes for Caching & Serving Blockchain Data
Content Nodes are rewarded in ONE tokens for serving users data from blockchains which is cached and indexed for speed.
Offsets Users GAS, Transaction Costs, & Additional Rewards
Users are rewarded ONE Tokens for simply using Menlo dApps. Our Proof-of-Reputation algorithm rewards users based on how much they contribute to a dApp.
ONE is
ERC20

On the Ethereum public blockchain.
View EtherScan
ONE is
bug free
ONE received a flawless report from Hosho.
Read the Audit
ONE is
OPEN SOURCE
Blockchain infrastructure crypto.
Read the Source
Townhall
Decentralized Communication
TownHall was released in April of 2018. It is the communication layer Menlo Framework. It has been completely integrated into the Menlo Framework, and is now deprecated. However the archived code is still available on Github.
View on Github