Menlo Framework
The Menlo framework gives you everything you need to get your dApp started. A ReactJS skeleton which integrates Truffle, Ethereum and IPFS, following standard design patterns.
Managed Content Nodes
Enterprise Blockchain Infrastructure
Menlo dApps let the cloud do the heavy lifting by caching blockchain data in the cloud on what we call Content Nodes. While anyone can setup a Content Node, Menlo offers Content Node administration as part of our Premium Enterprise Support.
Block Overflow
Share Knowledge, Earn Tokens
Block Overflow, an application for developer Q&A, is the demo dApp built with Menlo. It was released on testnet during the ONE™ token sale, and users could use their ONE™ tokens the mainnet release the moment the token sale ended.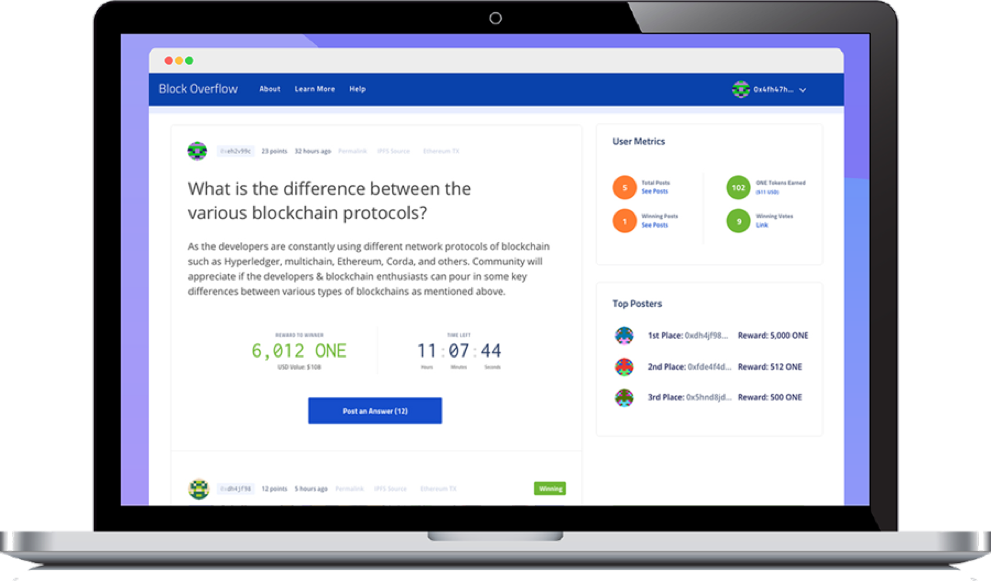 Ask a question
Asking a question costs ONE™ tokens, which goes into a pool to pay the person with the best answer. Then, a 24 hour countdown timer starts.
Users post answers
When someone replies with an answer, they place ONE™ tokens into the pool too, in hopes that they have the right answer.
The pool grows
Each time an answer is posted, the pool grows, and the 24 hour timer resets.
Users vote on answers
Users vote on answers. They can leave a comments too. If the answer they voted on wins, they get Reputation points.
Top answers win tokens
When people stop providing answers, the most up-voted answer is the winner. All of the ONE™ tokens go to the winner.
Totally decentralized
Furthermore, all of Block Overflow is decentralized. All of the data on this website was read from the blockchain.
TownHall was released in April of 2018. It is the communication layer Menlo Framework. It has been completely integrated into the Menlo Framework, and is now deprecated. However the archived code is still available on Github.
View on Github